When I married Annie last year, I didn't just gain a wife—I also gained a father. My father-in-law isn't just my wife's father, he's also my father.
He's actually one of the reasons why I moved from Toronto, Canada to a small town in Ohio. Leaving my mom, my younger siblings, my church, and my dear friends is the most difficult thing I've ever had to do. But developing a closer relationship with a wise and faithful father was essential for me.
Over the last 10 years or so, I've been blessed with good father figures. Men in my local churches have given me the most valuable gifts older men could ever give to younger men: their time and wisdom.
By giving me their time, I saw how they honoured their wives and raised their children. I saw how they love their wives as Christ loves the Church and I saw how they discipline and instruct their children in the Lord.
By giving me their wisdom, I learned about godly masculinity—though I so often failed to imitate their godly character. By given me their wisdom, I learned about all the things I hope to share with my children one day.
But although these great men were my father figures, they weren't my fathers. They didn't call me their "son." My father-in-law, however, says I'm his son. He's the first man to say that about me.
I try not to show it, but whenever he says that, I become emotional and uncomfortable. My natural father has never said a word to me, much less calling me his "son." And since I've never called a man "father", it's extremely difficult for me to call my father-in-law my father—especially to his face.
But I know he's my father. And he's the best I could ever have. Next to my wife and pre-born child, he's the best gift from my marriage.
See Also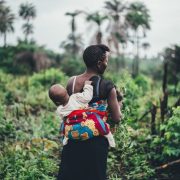 Most people have fathers before they get married, but God gave me a father when I needed one the most. His counsel on my sins, trials, marriage, and so much more have been so invaluable. He's been such a great father to me, I hope I'll be an honourable son to him.
I've always hoped that I would find my father, and by the grace of God, I have.
But I didn't find him where I expected. I didn't find him in Ghana or Nigeria. I found him in the middle-of-nowhere in Ohio—with white skin and old-fashioned suspenders.
I'm not fatherless anymore.