2020 was a difficult year, and there's no guarantee 2021 will be less difficult. I'm grateful for new mercies every morning and every year. But the new year doesn't come with with a new me. The new year doesn't come with a new earth. 2021 is just a different date, not a new reality.
So this year, we should expect much of the same things we experienced last year. In fact, today—the first day of 2021—we're still in lockdown in Ontario, just as we were on the last day of 2020.
This year, COVID-19 will kill more lives and the government lockdowns will kill more livelihoods. We'll experience sorrows and disappointments this year, just as we did last year.
And just as we were sinners last year, we are sinners this year too. Being sinless this year isn't one of my new year resolutions. I have already sinned this year.
And yet, just as I am a sinner this year, Jesus is my saviour this year too. Just as I am unrighteous this year, Jesus is my righteousness this year too.
Jesus was good to us last year—just as he was in the first year when he created the world. And he'll be good to us this year too. This year will be filled with sin and sickness. But this year will also be filled with Jesus' grace and healing.
So although I know there'll be days this year when I'll bow my head in grief. I know there'll also be days when I raise my head to the heavens in gratitude.
Especially since this could be the year when we finally raise our heads to see our Lord in the clouds. 2021 could be the return of Jesus Christ. This could be the year we see Christ and the resurrection of dead Christians.
But whether Jesus returns this year or not, I'll be grateful. Just as I'm grateful for everything he did for me through you all last year.
I'm deeply grateful for what so many of you did for me last year. When I started blogging over five years ago, I never imagined more than a handful of people would become regular readers. And yet, thousands of you commit yourself to reading my blog regularly.
Many of you also comment and share my articles. You send me kind and encouraging emails. And especially, many of you support me with one-time donations on PayPal or monthly donations on Patreon.
I've been in awe of God's grace through you all. I'm so thankful for every single one of you. I'm very grateful. And that's why I'm resolved to become even more committed to you this year. I'm determined to become even more ambitious this year.
I wrote just over 50 articles last year—one article a week—and received around 500,000 visits on the blog. That's 10,000 visits per article. That's twice as much as last year. 
Since people are seemingly hungry for good theology and good writing on critical race theory, culture, abortion and other political issues, I'm attempting to produce significantly more content this year.
I've actually spent over $2,000 on books over the last few months to make myself more helpful to you this year.
See Also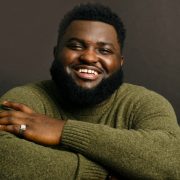 Most of the books are about critical race theory, and that's because I want to explain and refute all the complex ideas from critical race theory in a simplified manner for you.
So I'm developing a curriculum on critical race theory for parents of middle-school and high-school students, and it'll be available in a few months. And this year, I'll review a critical race theory (or related) book every month, starting with Jemar Tisby's How To Fight Racism this month and Esau McCaulley's Reading While Black in February. I'll also review books like Woke Church, White Awake, Be The Bridge, and more.
And after speaking with an agent and receiving several offers from book publishers, I'm in the early stages of preparing a book. I'll share more details about that when I'm able.
I've also joined The Falkirk Center with Charlie Kirk, Jenna Ellis, Eric Metaxas, Darrell Harisson, and Virgil Walker. I'll be writing articles for Falkirk as early as this month.
By the grace of God, I'm also redesigning my blog. The new design will give you a better reading experience when you visit the website. I'm also working on other exciting projects. I'll share them with you soon.
But more important than any of this, I'm attempting to marry my best friend, Annie. As some of you know, visa issues and the travel restrictions have made things difficult for us. Marrying Annie this year is the most exciting and fulfilling project I could ever have. So please pray for us.
This year, I know the world will continue to disappoint us. But I also know God will continue to delight us. So until Jesus returns, I'll continue to write for you.