I was at my friend Nick Challies' funeral earlier today, and through the songs about Jesus and the words about Nick at the funeral, Jesus' words in Matthew 25:21 have been on my mind all day.
In the middle of the Parable of the Talents in Matthew 25:21, Jesus said: "His master said to him, 'Well done, good and faithful servant. You have been faithful over a little; I will set you over much. Enter into the joy of your master.'"
At the beginning of the funeral, we watched a video collage of Nick's life, and the video was accompanied by a beautiful song I hadn't heard before. The song is titled "Well Done", and it's by The Afters.
The chorus is: "Well done, well done; My good and faithful one; Welcome to the place where you belong; Well done, well done; My beloved child."
And I've been thinking about how Jesus has really said those words to Nick. I keep thinking about how Nick has entered into the joy of his master. I keep thinking about how Nick is really where he belongs.
I keep thinking about how Nick isn't inside the casket, he's with Christ.
But I'm also thinking about myself. I'm thinking about my own death. I'm thinking about how one day, I'll receive the same words Nick and so many others have received from Jesus. And I'm thinking about how I'll fall to my knees, cling and kiss his wounded feet, and cry out over how unworthy I am to receive those words.
I am not even worthy to cling and kiss the wounds he suffered for me. I am not worthy of anything other than condemnation from Jesus.
See Also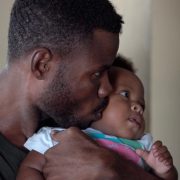 I gave Christ a cross, yet he'll give me a crown. I made him die, yet he makes me live. I give him sin, and he gives me salvation.
I've been so unfaithful to him, and yet one day—after so many sins—when I face Jesus, he will say to me:
"well done, my faithful servant."
And I'll know that's only because of his grace. So I'll reply, "Lord, I'm only a faithful servant because you're a forgiving and a faithful saviour."