He was looking at his sleeping children, gone to bed hungry again, when he decided to rob the king. The next morning, he ambushed a wagon carrying food and treasure to the king, and killed the wagoners. Witnesses, however, delivered the news to the king, leading to the man's arrest.
When it was time for him to be executed, he said to the king, "My Lord, please forgive me! My wife and children will surely die from hunger if you take my life!" Then the king saw the man's poor family in the crowd, and had compassion for them. So the king said to the man, "I will have mercy on you. I will spare your life. I forgive you."
But a lawyer ran to the king saying, "Lord, you cannot forgive him! The law says 'blood for blood, a murderer's blood for his victim's blood, a prince's blood for a murderer's blood.' If you do not kill that murderer, you will have to kill your only prince." And the king said to him, "I have already declared that I will have mercy on him. I must spare his life" So that day, the king did not execute the murderer—he executed his only prince.
The man thanked the king for having mercy on him. He vowed that he would never forget what the king had done for him. The man went home that day rejoicing with his family. But that night, He was looking at his sleeping children, gone to bed hungry again, when he decided that the king hadn't changed his life.
For eleven years now, I have been begging God to answer prayers he doesn't seem to want to answer for me. I used to think that maybe he couldn't answer me; maybe Satan was stopping him from answering my prayers. Then I learned that God is in the heavens, he does whatever he pleases. So maybe, it just doesn't please him to answer me. Over all these years, I have seen him give the same things I beg him for to other people. His ears seem so close to them, but not to me. I ask, but do not receive. I search, but do not find. I knock, but do not receive an open door.
So sometimes I don't want to ask anymore. Sometimes I don't want to search anymore. Sometimes I don't want to knock anymore.
See Also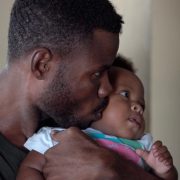 If I weren't so ungrateful to God, I would know that though he hasn't answered all my prayers, he's answered one too many. I tend to count my problems, not my blessings.I am like the man in the story. I rejoice in the morning, but weep in the night. I fail to bless my Lord. I forget his benefits. I do not remember that he has answered my most important prayer: forgiveness of sin. I am ungrateful for grace.
"Humble yourselves, therefore, under the mighty hand of God so that at the proper time he may exalt you, casting all your anxieties on him, because he cares for you. Be sober-minded; be watchful. Your adversary the devil prowls around like a roaring lion, seeking someone to devour. Resist him, firm in your faith, knowing that the same kinds of suffering are being experienced by your brotherhood throughout the world. And after you have suffered a little while, the God of all grace, who has called you to his eternal glory in Christ, will himself restore, confirm, strengthen, and establish you." (1 Peter 5:6-11)
Sometimes God answers prayers because he cares for us. Sometimes God doesn't answer prayers because he cares for us. Always, he exalts us at the proper time. Always he carries our burdens, as he did on the cross. Always, he cares for us.